Antique, Vintage Price Guide Online

WANTED:
Edward Seago Paintings
Click here to submit your info.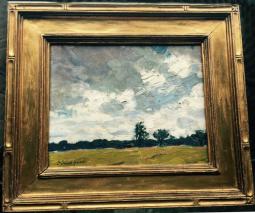 Edward Seago, RWS, RBA (1910-1974)
Edward Seago is one of Britain's best known and most widely collected twentieth century artists.
Seago was born in Norwich in 1910, and died in London in 1974. He was largely self taught. He was given guidance by Sir Alfred Munnings and Betram Priestman but developed his skill and technique from studying the British masters such as Constable.
He traveled and worked in Italy, France, Sardinia, Portugal, Morocco, and Hong Kong. His work has been shown in London, Glasgow, New York, Montreal, Los Angeles, Oslo, and Brussels; his work hangs in the Fine Arts Museum of San Francisco.
His exhibitions at Colnaghi's in 1945 and Marlborough Fine Art where huge successes.
He maintained worldwide popularity. He was brought up in East Anglia, studied under Sir John Arnesby Brown and embraced many of the values of the Norwich School painters. James Reid his biographer said, while Seago's subject matter evolved within a fundamentally traditional genre, his methodology, style and technique contributed to an innovative interpretation of the rural, urban and marine scene.
Seago paintings are owned by members of The Royal Family. He was one of the official artists appointed to paint the Queen's Coronation and was invited by The Duke of Edinburgh on an expedition to Antarctica. Prince Philip and Seago painted alongside each other on the deck of the Royal Yacht Britannia and became close friends.